As you may have already guessed, I love cheese and anything cheesy. One of my favourite meals is to make a syn free cheese sauce and have it with pasta.
Mix up one medium egg per 250g tub of quark. I use a manual hand whisk.
Heat slowly in a saucepan over a low heat, continually stirring and mixing.
Meanwhile cook up a portion of normal dried pasta whch is syn free.
By adding bacon or ham you have your own syn free carbonara. You can also use this sauce as a basis for lasagne or anything else which requires a cheesy sauce.
Remember that to bulk out your meals you need to have lots of free foods and in particular speed, so serve with a side of speed, or even include speed vegetables such as onion, garlic or mushrooms in the sauce.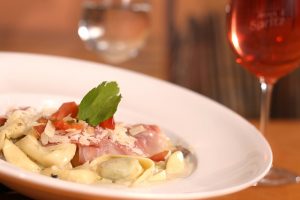 Need an extra hit of cheese? You can use one of your healthy extra portions of cheese to sprinkle on top, or even mix into the sauce whilst heating it up. Personally I find that the sauce tastes cheesy enough so I don't add any extra cheese.
Not a fan of cheese sauce, you can use passata as a great base for a pasta sauce. As I mentioned in my post about the chicken breast pizza recipe, I find passata and tomato puree too "tomatoey". A top tip is to use stock to dilute the flavour of the passata, and then reduce it over a low heat. I personally like the flavour of either chicken or vegetable stock. Adding garlic and onion to the sauce can also help to take the strong tomato edge off the taste of the sauce. Use one of your healthy extra dairy portions to sprinkle over the top and you have a classic pasta dish which tastes good, even a little naughty, but which is syn free!